Architecture is the soul of a major exposition. During the fair the buildings and grounds present the single strongest statement of the presenters' aspiration and vision. Afterwards, when all else is forgotten, architecture - from the Crystal Palace to the Space Needle - evokes the most immediate memory and continues to create a history and association among those who never attended the fair.

The architecture of world's fairs traditionally serves several purposes. If created with a unified theme, it helps to create order, serenity, and sensibility within a complex setting, and can draw focus towards a central structure. It may also be used to aggrandize or add glamour to buildings used for lesser or mundane purposes. If innovative, it can serve to educate in new ideas and help create new trends, although this was not yet a primary feature of American fairs in 1909. To the extent that it is beautiful in a traditional or accepted sense, it can stimulate an excitement for attractive architecture and help build a desire for investment in more interesting architecture for buildings and grounds of all types. While architecture can be appreciated in various media, there is no substitute for experiencing the impact of visiting it in person and today we can, for the most part, only enjoy the great fairs in a remote way. It may be difficult to put ourselves in the time and place of visitors - some of whom had previously only known sophisticated architecture from illustrations - appreciating it in person at the fair.

A full treatment of the AYPE's architecture is beyond the scope of this site, but a few ideas are presented here.

It is worth noting that Washington State had been involved in world's fairs for a long time - nearly twenty-five years or longer - and had produced significant buildings for several fairs. At the Chicago (1893) and St. Louis (1904) fairs, these took the form of elaborate and novel structures that showed off the large timber of the region:
.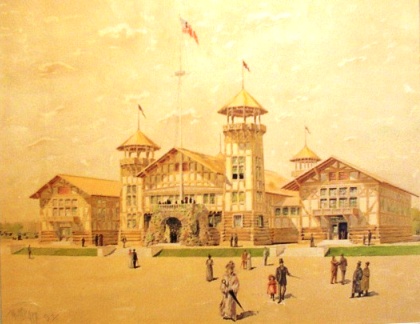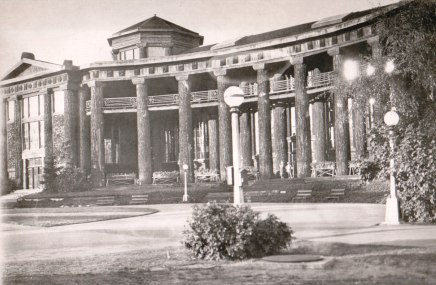 Washington State building, Chicago, 1893 - William A. Sharp
Forestry Building at twilight, post-AYPE (anon.)
At other fairs, including the Lewis and Clark (1905) the Washington State Building took a classical form. To a certain extent this was determined by what each fair's management would permit, but the State had a long history in creating strong architecture for expositions.

A standard textbook of the pre-1930 period, The American Architecture of Today, devotes a section to the fairs of this period and maintains that they helped to improve the general standards of American architecture. The AYPE is mentioned with the caveat that it was too remote and small to have as much influence as it might have had otherwise. Nevertheless, the AYPE was reviewed in many national magazines such as Scientific American, American Architectural Review, American Architect and Engineer as well as in popular national magazines such as Sunset, Colliers, Harper's and others. In these articles, written by the magazine staff and not the fair's publicity department, the fair was almost universally praised for its beauty. From The Architectural Record (New York): "the brilliantly contrasting ivory white of the bodies of the buildings against their turquoise blue roofs and fine lines of verdigris of sashwork and trimmings.. makes a picture which must long remain in the memories of those who are fortunate enough to view it. ... one of the most palpable influences of our American expositions has been their power to stimulate a popular interest in architecture and building. ... this influence will be helpful alike to local architects and the people of the Pacific Northwest."

The unifying theme of the AYPE was French Renaissance, painted a cream or ivory color. The main buildings surrounded a Court of Honor through which a long cascade of water descended. The effect was very enthusiastically received at the time. Another important influence on World's Fair architecture of this period was academic eclecticism, which brought together diverse elements of various traditional styles. The term Beaux-Arts, from the name of the famous Ecole des Beaux-Arts in Paris, embodied these ideas with a classical emphasis and applies to the school's study and influence upon city planning and parks. These aspects are richly illustrated across the AYPE's grounds and eighty-plus buildings. Examples of Mediterranean, Colonial, Roman, English Arts and Crafts, Japanese, Chinese, even Pueblo are to be found.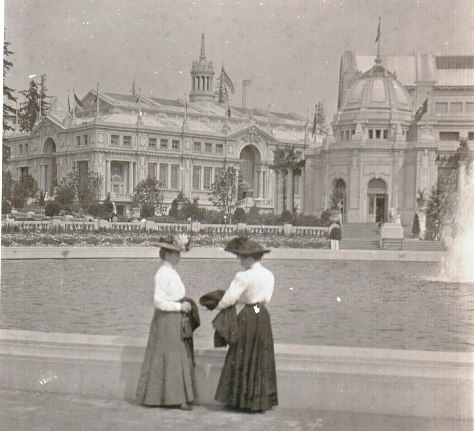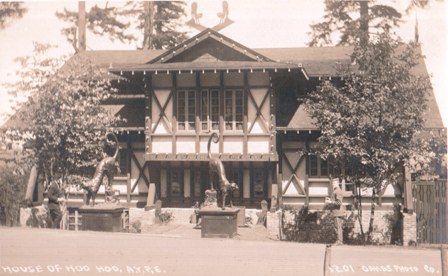 Oriental Building, Manufacturer's Building AYPE (anon.)
House of Hoo Hoo, (a lumberman's fraternal and protective assn) M. L. Oakes
The use of traditional forms in the pre-WWI era fairs has sometimes been criticized, especially as later fairs were a vehicle for newer and experimental architecture. However, an appreciation for its appropriateness and role is returning. As Erik Larson in The Devil in the White City states regarding the classical architecture of the Chicago fair, "the fair awakened America to beauty and as such was a necessary passage..". The AYPE's promoters did make a small claim to architectural innovation in its use of Native American forms in juxtaposition with oriental forms, which was sometimes described as a "Northwest Coast-Japanese-Chinese" style, best seen in structures like the South Gate and the railroad bridge separating the North and South Pay Streak.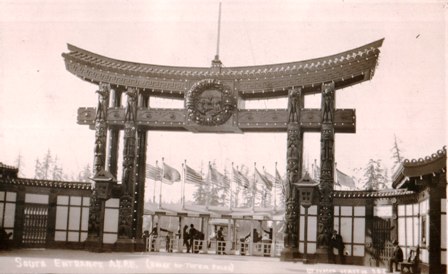 South Entrance - O.T. Frasch