Ezra Meeker is a fascinating figure in Washington State history. An early pioneer, agriculturalist, entrepreneur, champion of Native American rights, gold prospector and historian, this remarkable man kept the memory of the Oregon Trail alive, tracing and re-tracing it by covered wagon, automobile, and, in his nineties, by airplane.

Meeker gained the rights to a large tract of the Pay Streak, where he built copies of historical buildings and moved others intact, including a blockhouse from Whidbey Island. Many historical artifacts representing early area settlement were displayed. Visitors could also appreciate pioneer life through historical meals, special activities, and rodeo shows.
Oregon Trail Restaurant at the AYPE. The front building is based on the architecture of an early roadhouse in Oregon, while the back part may represent part of a pioneer farm.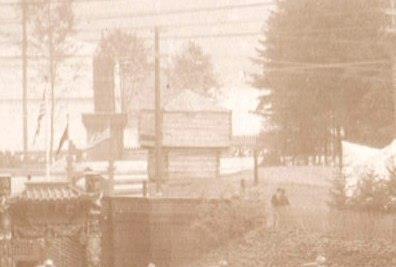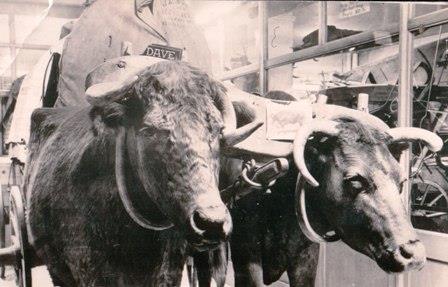 This Crockett blockhouse, placed along the northern boundary of Meeker's area, was one of a pair built near Coupeville, Wa. in the 1850s. They had been joined by a stockade; the other of the pair can be visited today near Fort Casey State Park.

Meeker's oxen, shown here as preserved in later years, gave visitors a sample ride in a covered wagon. They were seen on the streets of Seattle, and in the years after the fair pulled his wagon on reenactment trips on the Oregon trail.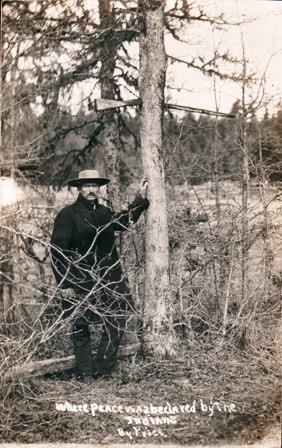 "Where Peace was declared by the Indians"

Note the gun in the tree in this photograph by the Thurston County photographer Stanton Price. That the tree has grown around the gun over a period of several years seems certain, although the story of its origins has been questioned by some. Meeker - who had been present and active during the period of Native American conflict with settlers - displayed a portion of the trunk containing the gun as one of the many fascinating artifacts that must have been part of his display of Northwest history.

As Meeker explained:
"This tree, a silent witness of the confidence existing between the Indians and pioneers, grew on Mound Prairie, Thurston County, Washington.
The sturdy pioneer, owner of the gun shown in the illustration, when the Indian war outbreak came, agreed with his Indian neighbors they should remain friends, and as a token of mutual confidence the gun was placed in the fork of the tree as an emblem of peace, where it has remained during fifty-four years. The pioneer has long since died; the cabin has fallen into decay, and but for the rescue of this relic the incident would have gone down into oblivion and this striking illustration of the relations of the two races would have been lost."